Emergency Information Pack

---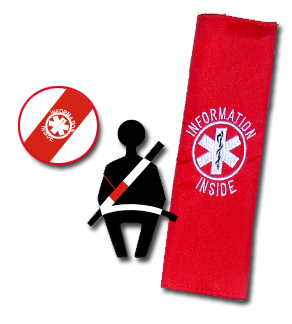 Providing Crucial Information in Critical Situations!

The right choice when medical attention is necessary!
When Emergency Service Providers arrive on the scene of a medical emergency to render aid, one of the first steps taken involves removing the patient's seat belt. The Rescue Facts Emergency Information Pack provides a method of communicating crucial information to EMS in the event that you are unable to. The Rescue Facts information strap is specifically designed to capture the attention of emergency personnel while protecting your privacy.
Where to Use:
Passenger Cars

Buses

Trucks

Airplanes

Motorcycles/ATVs/Snowmobiles

Personal Items such as backpacks,
trouser belts, suspenders, or purses

Your Pet

Child seat size also available

and More
Information includes:
• Name/Address/Phone
• Date of Birth/ Sex
• Height/Weight/Hair/Eyes
• Primary care Physician
• Allergies/Current medications
• Medical Conditions
• Blood Type/ Donor Preference
• Emergency Contact Information
• Preferred medical Facility
• "Consent to Treat" form and more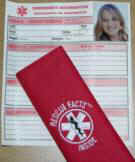 Why do I need this product?
During a medical emergency, there is often a high degree of stress and chaos. If you are ever in need of emergency medical care, those trying to help need to find out as much about you as possible as quickly as possible. Attempting to identify a person and piece together his or her medical history can be time consuming, frustrating, and dangerous. By compiling accurate information in one convenient and conspicuous place, you are ensuring that more precious time can be spent on administering proper life saving treatment.
---
Pet Owners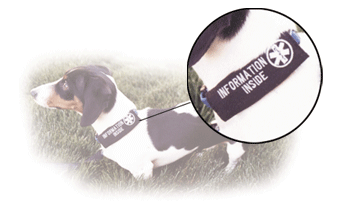 There are more than 300 hereditary animal diseases such as Hip & elbow displasia, deafness, Hypothyroidism, rogressive retinal atrophy, Rheumatoid arthritis, Atopic dermatitis Glaucoma, Narcolepsy, or Diabetes. Each of these requires specific treatment that is vital to maintain a good quality of life for the animal.

While many owners take preventative measures to ensure their pet is cared for, it is impossible to fit an entire medical history on a tag or pendant, until now. From an adventurous dog who sets out on a journey without permission to a motor vehicle accident, Rescue Facts allows for this information to be communicated to anyone giving care to your companion in an emergency situation.

This conspicuous nylon strap embroidered with the universal medical symbol, attaches to your animal's collar or leash. Inside the strap is a pocket designed to contain a form filled out by the owner. It includes allergies, emergency contact information, breed, approximate age, name, animal license number, a place for a photo and much more.
---
Motorcycle / ATV / Snowmobile Riders

Everyone who drives or rides a Motorcycle, ATV or Snowmobile runs the risk of becoming involved in an accident, and a simple device attached to your helmet chin strap can give the police and EMTs at the scene the needed edge to save your life. Rescue Facts LLC has put together a product that although it won't prevent an accident from happening, it may ease your mind when an accident occurs.

The Rescue Facts Information Pack is a nylon wrap that secures around your helmet chin strap or on your handlebars and is secured by Velcro. An embroidered or screen-printed medical symbol alerts EMS and Police that there is important health information inside.

Written in English and Spanish, Rescue Facts contains all the necessary information about the patient and his/her blood type, allergies, medical conditions, primary physician, current medications being taken, consent to treat form, a photograph and more; then it folds up inside the pocket of this nylon wrap. Developed by Brian Day, a police officer, and John Mulry, a former EMT, who have experienced first hand the frustration associated with, and the time lost, while attempting to identify and piece together a medical history for crash victims.

The Rescue Facts Information Pack was designed to give back those precious moments and allow for the user to obtain the very best medical care as quickly as possible.

---

Our vision is to see a Rescue Facts strap on every seat belt in every vehicle across the world as we believe they will ultimately save lives and help minimize the initial pain associated with traumatic incidents.


( Only $10.00 each ) $2.95 S+H
Click Here to order your Rescue Facts Emergency Information Packs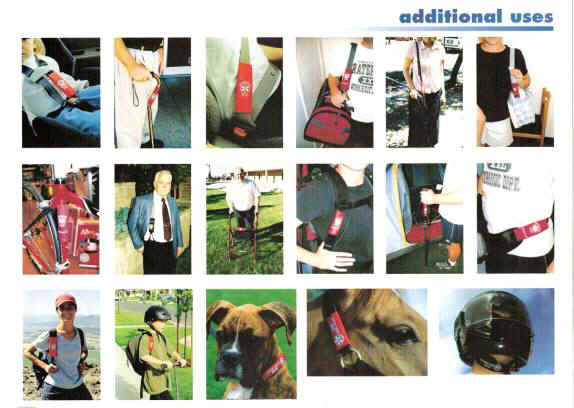 ---
Frequently Asked Questions
Why do I need this product?
During a medical emergency, there is often a high degree of stress and chaos. If you are ever in need of emergency medical care, those trying to help need to find out as much about you as possible as quickly as possible. Attempting to identify a person and piece together his or her medical history can be time consuming, frustrating, and dangerous. By compiling accurate information in one convenient and conspicuous place, you are ensuring that more precious time can be spent on administering proper life saving treatment.
How is Rescue Facts different from other, similar products?
Medical bracelets and charms can be very costly and are only able to contain a very limited amount of information. At pricing of under $10.00, Rescue Facts provides everyone the opportunity to have the security that comes with knowing that those rendering aid will have access to their vital information such as, medical history, preferred hospital, and contact information for their loved ones.
Traffic crashes are often very chaotic and dangerous. Some products allow users to place information inside tubes or other containers for storage in their vehicles and glove boxes. Precious time can be lost searching for these containers. After a crash, airbags can become very unstable and deploy without notice. This creates a known hazard for first responders and glove boxes are often avoided. Additionally, often times, contents of vehicles are lost in debris both inside and outside the vehicle. The seat belt is the only portion of the vehicle specifically designed to withstand such a traumatic event. What better place than the seat belt to ensure that your information is secure and available to emergency personnel?
Another note. Human nature says that no matter how good a product is designed, if it is not user friendly, it is likely not to be used. First responders are human beings. As a police officer and first responder to traffic crashes, I personally developed this design to maximize its ease and likelihood of use.
How does Rescue Facts work?


There are two parts to the Rescue Facts product. The first is the nylon, embroidered strap. This is made from durable nylon, similar to outdoor flag and banner material. The medical symbol is either embroidered or silk screened onto the strap. The strap is not actually attached to the seat belt or clothing item, but rather wraps around the item and is secured by Velcro. This allows it to slide freely and avoid damaging the seat belt material or clothing item. Inside the strap is a pocket designed to hold the paper medical information insert card.
The other part is the medical information card. This card is perforated and scored for your convenience. The following steps describe how to use the card.
Tear off the top portion of the card and either discard it or attach it to the rear window of the vehicle to further alert medical aid providers that you are using the product.


Fill out the categories listed on the insert card. If additional room is needed, a separate piece of paper can be used. Keep in mind, the more information the better. If you need to use additional paper, simply place it behind the insert.


Add your photograph. You may do this by cutting out a good candid shot or by having your photo taken by a passport photographer. It is extremely important that the photograph be on the insert card, as care providers will not use the information without verifying the patient's identity.


Fold the insert along the scored lines and place into the interior strap pocket. Make sure that the "Emergency Information" heading is facing out.
Once the insert has been filled out and placed in interior pocket of the strap, you are free to attach it anywhere you have a need. For instance, on a seat belt, place the center of the strap on the front side of the seat belt so the symbol is exposed on the outside. Next, fold the loop portion of the Velcro around the seat belt. Finally, fold the hook portion of the Velcro over the loop portion. The strap is designed to slide easily up and down the belt, eventually resting at the buckle. (This allows for you to use the product discretely, while at the same time, making it obvious to medical personnel when they go to unfasten the seat belt.)
Is the 'Parental Consent' form important?
If you are ever involved in a severe traffic crash and unconscious, or worse, it is vital that rescuers have a "consent to treat" form signed for your child or children. Additionally, emergency contact information can be used to locate family members as opposed to worsening the traumatic event by having to place your child in foster care until a family member can be located
Can I use Rescue Facts on items other than seat belts?
Absolutely! The Rescue Facts strap can be applied to many items. For instance, many times elderly people suffering from dementia or Alzheimer's walk away from care providers and can't remember where they live. When law enforcement or other citizens try to help, it is often very time consuming and difficult to determine identity and medical conditions. Attaching a strap to a trouser belt, purse, or suspenders is a great way to conspicuously communicate this information.
Other popular uses for the strap include canes and walkers. For this use, the child seat size works best. This size strap fits securely around most walkers and canes and can easily be placed in a manner that catches the attention of those lending a helping hand.
Hikers also find good use for Rescue Facts by attaching them to their backpack straps. The sky is the limit with this versatile product.
The Right Choice When Medical Attention is Necessary!
---
Testimonials
One couple told us they got 3 Rescue Facts for Seatbelts and sent one to their daughter who is Diabetic - One day while driving she blacked out and crashed her vehicle. When Rescue arrived they started treating her as an accident victim till they reviewed "Rescue Facts" then started assessing and treating her immediately as a diabetic. Valuable Time was Saved !
One gentleman was telling us he had gone through a double bypass and that he did have 12 different allergies. One day he was found unconsious beside his bicycle. the Rescue Squad found "Rescue Facts' on his handlebars. Possible Medical Complications Where Avoided !
A woman who's father has Dementia uses a "Rescue Facts" on the back of his belt. One day lost and confused the police was able to return him home from the info in his "Rescue Facts" The Family Worry's Less Now !
A couple got "Rescue Facts" for all their children, when one Son was driving a few states away when his pickup rolled 3 times, luckily he walked away from it but was so shook up he could not answer any questions. When State Police reviewed his "Rescue Facts" they where able to call his father and learn who he was, where he was headed etc. Needed Information was Quickly Available !