The Ultimate Wi-Fi Antenna
Finally Available ! You wouldn't believe the strength of this device.
+35dBm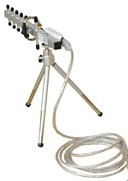 All You Need is a Spare USB Port for it to Work That's it !!
---
What is included:
USB- antenna

Tripod capable of Vertical or Horizontal antenna operation.

CD-ROM drivers for Windows XP/VISTA, Linux, Apple MAC X

USB2.0 3 meters cable (Standard) Our's are - 5 meter

User's Guide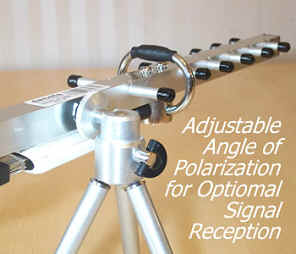 ---
How it Works !! You don't need to buy expensive Type N or Pigtail Cables, Adaptors + Wifi Card to make it work. This is a Complete plug and play system. Just plug your Antenna into your PC or Laptop via the USB Cable. The Built-In WiFi Card on the antenna is connected directly to your PC like a Wifi Card inside your computer, this mean you get 100% of the signal.
Coax or USB With Coax you get an analogic signal from the antenna to a computer and you lose signal quality at every foot, every adaptor, connector etc. With USB you get a numeric signal already analyzed by the Wifi Device, so you don't lose dbm (signal strength)
---
Features and Benefits
This brand new field proven USB- antenna is equipped with the high performance 802.11b/g USB2.0 WiFi dongle that comes with a 3 meters USB2.0 cable (optional 5 metes USB2.0 cable available) as a complete kit. Instantly improves your computer's WiFi reception capability beyond the built-in standard factory gear. It works within minutes. Simply plug in the USB cable of the USB- antenna to your laptop or desktop PC and follow a few simple clicks for CD-ROM driver installation - There is no need to worry about the cable compatibility issue.
This antenna delivers a remarkable +28dBm horse power in the direction it is pointing with a HPBW beaming aperture of 30 degrees and provides sufficient waveguide runway for ultimate beam focus, resulting in penetrating of concrete walls to improve signal strength and quality and is precisely engineered and manufactured to provide the optimal performance, and it looks good !
| | |
| --- | --- |
| Frequency: | 2400-2500 MHz |
| RF Power: | +32dBm |
| HP Beam Width: | Approx. 56 deg. |
| Impedance: | 50 Ohm |
| VSWR: | <1.5:1 avg. |
| Standard: | IEEE-802.11 a/b/g/n |
| Bus Type: | USB2.0 Type A |
| Modulation: | OFDM with BPSK, QPSK, 16QAM, 64QAM (11g), BPSK, QPSK, CCK (11b) |
| Radio Technology: | Direct Sequence Spread Spectrum (DSSS) |
| Data Rate: | 300/150/108/54/48/36/24/18/12/11/9/6/5.5/2/1Mbps auto fallback |
| Security: | 64/128/256-bit WEP Encryption, WPA/PSK,WPA2/PSK(TKIP, IEEE 802.1x) + AES |
| Drivers | Windows 98SE, 2000, Vista, ME, XP, Windows7, MAC + Linux |
| LEDs | Link, Activity |
| Temperature | 32~122°F (0 ~50°C) |
| Humidity: | 0~95% (Non Condensing) |
| Length: | 12" |
| Material Base: | Metal (Aluminum) |
| USB Cable: | 5 meters Included (Standard is 3 meter) |
Specifications:
---
E-Mail US For Ordering
---
Lost your CD ?? Computer Crashed ??
Download the Latest Drivers
For MAC OS X MAC OS X
For Windows 7 and VISTA Windows 7 and Vista
For Windows XP Windows XP
---